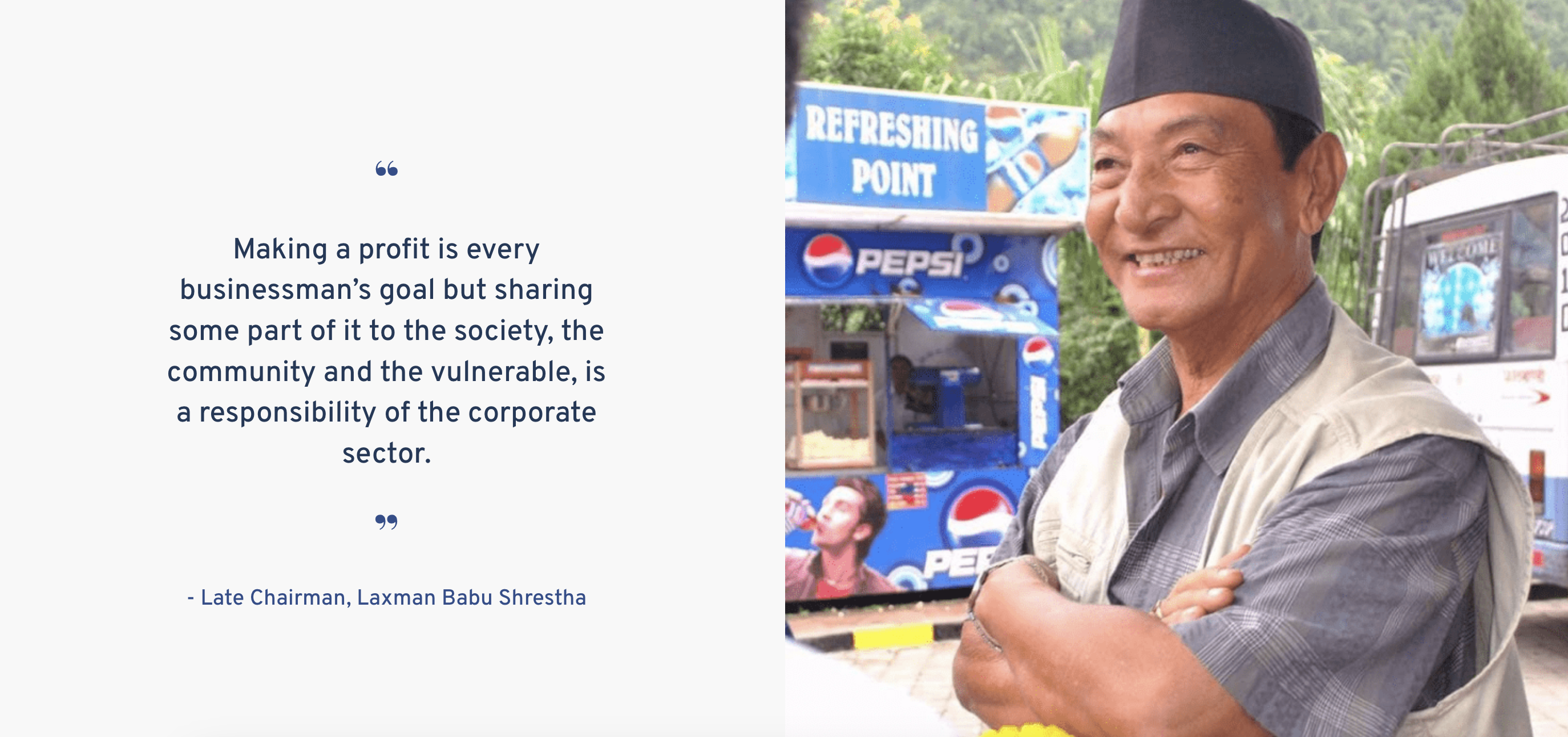 Chitawon Co-E Group is deeply committed to engaging in Corporate Social Responsibility (CSR) activities, with a particular focus on social and development work, education, sports, and providing aid during natural emergencies. In honour of the Late Chairman, Laxman Babu Shrestha Memorial Trust | लक्ष्मणबाबु श्रेष्ठ स्मृति कोष   has been established. The trust is dedicated to the support of Nepali community welfare through advocacy and implementation of effective social, environmental, health and economic services.
8 units of oxygen concentrator distributed for Covid-19 pandemic
Manakamana Cable Car, in collaboration with the Laxman Babu Memorial Trust, has undertaken efforts to assist rural areas in combating the current COVID-19 pandemic. As part of these endeavors, we have distributed 8 units of Oxygen Concentrators (7 liters per minute flow) for the immediate treatment of cases with mild to moderate severity. A brief program was held, adhering to health and safety protocols, where Mr. Sashi Shrestha, Head of Station Administration at Manakamana Cable Car, along with our senior staff, handed over the machines.
The beneficiaries of the Oxygen Concentrators are as follows:
1. Manakamana Health Post, Manakamana – 1 unit
2. Ghairung temporary COVID Hospital, Gorkha – 2 units
3. Bungkot Health Post, Gorkha – 1 unit
4. Mai Manakamana Cooperative Hospital, Manakamana – 1 unit
5. Isolation Centre of Ichyakamana rural metropolitan – 2 units
6. Mugling Highway Hospital, Mugling – 1 unit
ECG machine gifted to the Mugling highway hospital
The Director of Manakamana Cable Car and Secretary of the Laxman Babu Memorial Trust, Mr. Rajesh Babu Shrestha, handed over a portable ECG machine to Mugling Highway Hospital in the presence of the hospital's Chairman, Mr. Ram Bahadur Lama, and other board members. This donation reflects our commitment to continue the philanthropic vision of Late Laxman Babu Shrestha, who believed in earning, sharing, and serving the community and the country.
Construction of the main gate of Bindabashini temple, Pokhara
In another project, the Laxman Babu Memorial Trust is currently undertaking the construction of the main gate of the renowned Bindhabasini Temple in Pokhara. The gate will be built in traditional Newari architecture, with work scheduled to commence in November 2018 as agreed with the Temple Management Committee.
Financial support to Miss Nepal 2018- Health Center, Makwanpur
The Trust has provided support to Miss Nepal (World) 2018, Ms. Shrinkhala Khatiwada, for the establishment of a health post in Makwanpur district under the Kailash Rural Municipality. This health post aims to cater to the healthcare needs of the local population who currently lack access to adequate services. The Trust has contributed NPR 500,000 towards this noble cause. Ms. Shrinkhala, an Architect herself, designed the health post, and we are proud to be associated with such a commendable initiative.
Natural Disaster
During the Gorkha Earthquake in April 2015, the group, in coordination with the Trust, actively participated in relief assistance efforts. We distributed various relief materials such as tarpaulins, dry food, water, medicine, and hygiene supplies to 13 Village Development Committees (VDCs) in Gorkha and 3 remote VDCs in Chitwan district. Additionally, medicines received from the USA and cash donations from students of GOODWIN ELEMENTARY SCHOOL USA were also provided. The group and the Trust continue to support the education of earthquake-affected children.
Social/Development
The group actively engages in supporting local educational institutions, clubs, societies, and village development committees primarily in Gorkha and Chitwan districts. We have provided assistance in various development projects, including road and water supply infrastructure in the area. As part of our commitment to local development, Manakamana Cable Car annually contributes 1% of its sales revenue to both Manakamana and Darechowk VDCs for developmental purposes.
In collaboration with the Laxman Babu Shrestha Memorial Trust and the local NGO STEP, we distributed 200 warm jackets to four schools in the remote area of Darechowk VDC, Chitwan district, on January 17, 2016. These jackets were provided to children ranging from nursery to grade 5 level, predominantly belonging to the Chepang and other vulnerable castes in the area. This initiative was undertaken under the auspices of the Laxman Babu Shrestha Memorial Trust, and we are proud to have been part of this effort.