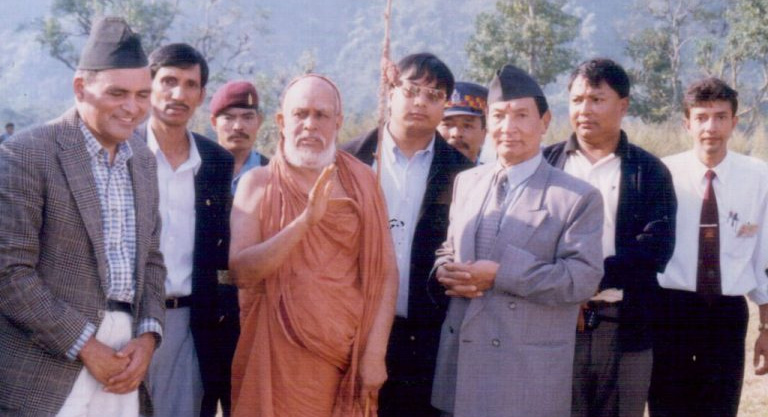 Chitawon Co-E group is very actively involved in CSR activities mainly in Social/Development Work, Education, Sports and in time of natural emergencies. In memory of its Late Chairman a Trust is founded as Laxman Babu Shrestha Memorial Trust and the group also collaborates with the trust for its CSR activities.
Main Gate of Bindabashini Temple of Pokhara
The Laxman Babu Memorial Trust is building the main gate of the famous Bindhabasini Temple at Pokhara to be constructed in traditional Newari architecture. The work is scheduled to start in November 2018 as agreed with the Temple Management Committee.
Support to Miss Nepal (World) 2018 Health Centre at Makwanpur
Laxman Babu Memorial Trust has supported Miss Nepal(World)-2018 Ms Shrinkhala Khatiwada for the health post she intends to build at Makwanpur district situated at Kailash Rural Municipalty for the people of that area who lack access to health care services. The Trust has given a support of NPR 500,000 towards this noble cause. Ms Shrinkhala, an Architect, designed the health post herself. We are proud to be associated in such work.
Natural Disaster/Calamities
The group in co-ordination with the trust had actively participated in relief assistance during the recent massive earthquake, Gorkha Earthquake (25 April 2015) distributing various relief material as tarpaulin, dry foods, water, medicine, hygiene materials to 13 Village Development Committee (VDC) in Gorkha and 3 remote VDC of Chitwan district. Medicines received from USA and cash donation received from students of GOODWIN ELEMENTARY SCHOOL USA were also donated. The group/trust is also supporting education of earthquake victim children.
Social/Development
The group is actively involved in assisting the local education institution, clubs, society, village development committee mainly in Gorkha and Chitwan district. It has also assisted in providing assistance in kinds in various road, water supply development work etc. in the area. Manakamana Cable Car contributes 1%, each, of its sales revenue to both Manakamana and Darechowk VDC for development assistance purpose every year.
Distribution of Jackets to students in Darechowk VDC, Chitawon. 200 warm jackets were distributed to 4 schools of remote area of Darechowk VDC of Chitawon district under the aegis of Laxman Babu Shrestha Memorial trust on 17th January 2016 in collaboration with a local NGO STEP. These children were mostly Chepang and other vulnerable castes in the area and ranged from nursery to grade 5 level.