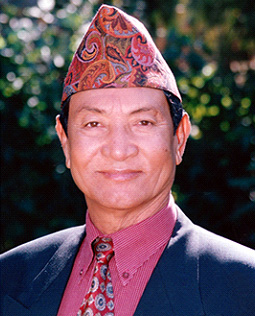 Laxman Babu Shrestha
(1935-2014)
Laxman Babu (L.B) Shrestha was born in Gorkha as the fourth son of Prem Narayan and Dev Kumari Shrestha. His ancestors, known as the Chaubis Kothi (Twenty-Four Business Houses), migrated from Lalitpur to Gorkha around 1630. They played a significant role in the financial support of the national unification campaign (1743-1815) that led to the creation of modern Nepal.
L.B. Shrestha, a man of unwavering determination, faced the loss of his father at the tender age of three. Despite the formidable financial challenges, he was raised by his mother, and his indomitable spirit propelled him on a transformative journey to Kathmandu in pursuit of education. With resolute focus, he earned a Bachelor's degree from Tri-Chandra College, establishing a solid foundation for his future endeavors.
Intrigued by the possibilities of the business realm, L.B. Shrestha embarked on a new chapter as a contractor in the recently cleared Chitawon district. This region, once plagued by malaria-infested forests, presented both opportunity and adversity. Undeterred, L.B. Shrestha fearlessly navigated this uncharted territory, laying the groundwork for his future contributions.
Emerging as the Founding Chairman of the esteemed Chitawon Construction and Engineering Group, L.B. Shrestha exhibited visionary leadership and an unwavering commitment to Nepal's development. Among his numerous accomplishments, one standout achievement was the groundbreaking construction of Nepal's inaugural passenger cable car in Manakamana, Gorkha. This monumental feat revolutionized transportation, granting pilgrims and visitors unprecedented access to the revered temple.
L.B. Shrestha's entrepreneurial expertise extended far beyond the cable car venture. He established Chitawon Milk, a state-of-the-art powdered milk factory, embodying his visionary spirit and dedication to uplifting local communities. The Sagarmatha Power Company, another testament to his foresight, harnessed the potential of renewable energy, propelling Nepal towards a sustainable future. Additionally, L.B. Shrestha's involvement in the collaborative Upper Marsyangdi Hydropower project further underscored his commitment to advancing Nepal's energy sector. Moreover, he deftly managed R.B. Enterprises, a thriving machinery supply enterprise, leveraging his expertise to cater to the evolving industrial landscape.
His firm belief in the symbiotic relationship between business and social progress was a guiding principle throughout his acclaimed career. He firmly advocated that business leaders should champion the cause of social and economic development in their homeland. His philanthropic endeavors, combined with his visionary ventures, left an indelible mark on Nepal's corporate landscape.
A true visionary and nationalist, the company continues to embody the Late Chairman's mission to invest and develop in different sectors of the country.