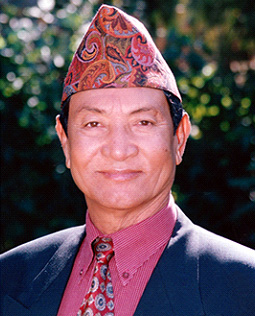 Laxman Babu Shrestha
(1935-2014)
Laxman Babu (L.B) Shrestha was born in Gorkha as the fourth son of Prem Narayan and Dev Kumari Shrestha. His ancestors, known as Chaubis Kothi (Twenty-Four Business Houses), had gone to Gorkha around 1630 from Lalitpur and made a financial contribution to the creation of modern Nepal during its national unification campaign (1743-1815).
L. B. Shrestha lost his father when he was just three years old so his mother raised the children (three girls and four boys) in great financial difficulties. A man of strong determination, L. B. Shrestha fled to Kathmandu for education and completed his Bachelor's degree at Tri-Chandra College. Soon after that, he entered in business life as a contractor in Chitawon district that was just cleared of malarial forest in the early 1960s.
Founding Chairman of Chitawon Construction and Engineering Group, L. B. Shrestha was a visionary of Nepal's development. He built the first passenger cable car of Nepal in Manakamana, Gorkha. Besides the cable car and numerous construction works that he did in various parts of Nepal, he also established Chitawon Milk (a powder milk factory) and Sagarmatha Power Company, and collaborated in Upper Marsyangdi Hydropower project, and ran R. B. Enterprises (supplying machineries). He believed that a businessman should be guided by the spirit of social and economic development of the country. He has left a vibrant business group manned by his three sons.